Juniper SA (SSL VPN) End of Life Announcements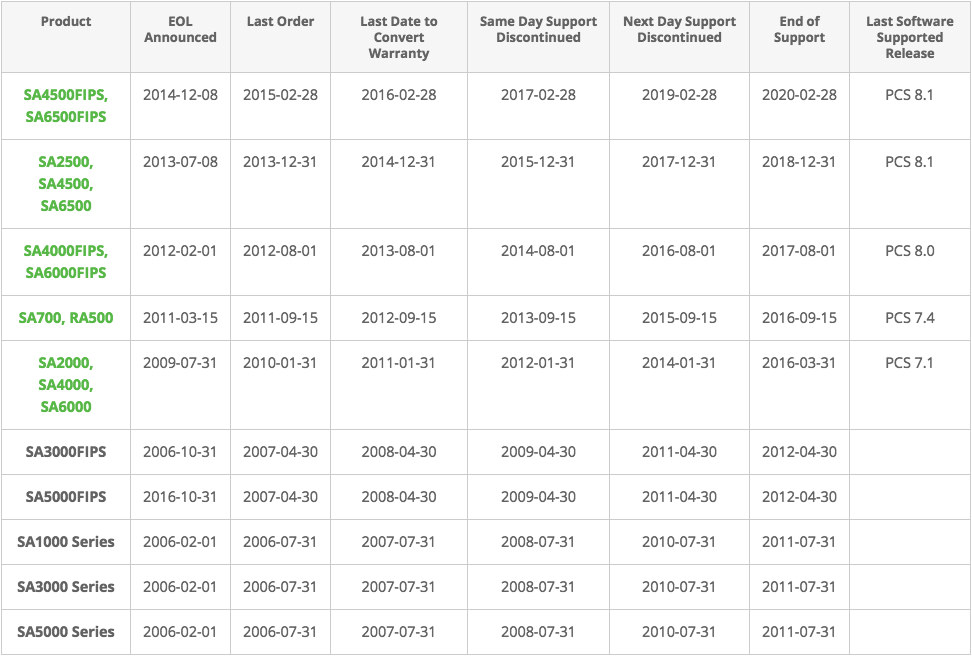 To read the full EOL support information and announcements, go to the Juniper
EOL URL
.
Older Juniper SSL VPN platforms


If you're still running older Juniper RA500, SA700, SA1000, SA3000 and SA5000 platforms, these are no longer able to run the most current versions of the code. Read the "What's new" notes on releases after 6.0 to see what features you're missing out on and then contact us to get your units upgraded. 6.0 is the last release to support these platforms (except SA700).

If you are running the Juniper SA2000, SA2500, SA4000, SA4500, SA6000 and SA6500 platforms, these have been replaced by
PulseSecure
MAG and PSA platforms.


It is
extremely
important to keep support contracts current on EOL and EOS equipment, a lapse in coverage may most likely mean that support cannot be reinstated!
Download "What's New" information

- Version
8.2
,
8.1
,
8.0

- Version
7.4
Download Pulse Secure/Juniper Supported Platforms document

- Version
8.1

- Version
8.0
Download Pulse Secure/Juniper Release Notes

- Version
8.1r6

- Version
8.0r13
Download Pulse Secure Admin Manual

- Version
8.1
Download Pulse Secure Getting Started Guide

- Version
8.1
Pulse Secure Upgrade Paths
8.2 Upgrade Path:
- Release 8.0Rx or 8.1Rx: Upgrade directly to 8.2Rx
- Earlier than 8.0Rx: Upgrade to 8.0Rx or 8.1Rx; then upgrade to 8.2Rx
- NOTE: Check release notes and support for MAG platforms
8.1 Upgrade Path:
- Release 7.1R19 to 8.1R1: Upgrade directly to 8.1R1
- Earlier than 7.1R19: First upgrade to release 7.1R19 (or later 7.1R); then upgrade to 8.1R1
8.0 Upgrade Path:
- Release 7.1R16 to 8.0R1: Upgrade directly to 8.1R1
- Earlier than 7.1R16: First upgrade to release 7.1R16 (or later 7.1R); then upgrade to 8.0R1

NOTE: Always completely backup system and users prior to doing a backup!
Pulse Secure/Juniper SSL VPN New Features Overview
- HTML5 browser access for RDP/Telnet/SSH sessions
- Windows 2012 R2 support
- IPv6 SNMP support
- Admin web UI revamp
- Windows 10 support (see release notes)
- AES preferred over RC4
- Pulse Secure Application Launcher

Supported platforms: PSA & MAG

Rebranded Pulse Connect from

PulseSecure

- BYOD onboarding

- Citrix Storefront Support

- SharePoint 2013 Support

- MDM integration improvements

- A/P and A/A clustering improvements

- AAA and Radius improvements

- Max User Session Options

- Advanced Config Sync

Supported platforms: PSA, MAG and SAx500 (last version for SA2500, SA4500 and SA6500)

- Enhanced BYOD Solutions with MDM Integration (AirWatch and MobileIron)

- Federal Information Processing Standard (FIPS) 140-2 Level 1 Compliance
- HTML5 Support (Phase 1)
- IPv6 Support (Phase 1.5)
- SNMPv3 Support
- Support for SAML Basic Attribute Profiles

- Support for IPv6 in Junos Pulse (Phase 1)
- Pre-Login and Post-Login Disclaimer Page Support
- Layer 2 Machine Authentication (Microsoft Windows Only)
- Microsoft Windows 8 Support
- Apple Mac OSX 10.8 (Mountain Lion) Support

- Junos Pulse 3.0 for Microsoft Windows and Apple Mac OS
- Junos Pulse 3.2 for Apple iOS and Google Android (now includes Host Checker)
- 802.1X Support for Apple iOS and Google Android Operating Platforms
- Junos Pulse SSL VPN 7.2 (Secure Access Service)
- Junos Pulse UAC 4.2 (Access Control)
- Machine Authentication (for Microsoft Windows Only)
- 802.1X Support on Branch SRX Series
- Customized Landing Pages for Tablets
- Silverlight Support for SharePoint, Office Web Apps, and Outlook Web Access

- SharePoint 2010
- SAML 2.0
- ActiveX Self-Upgrade
- Mobile friendly SSL VPN login pages
- VMware View 4.x Support
- Citrix Web Interface 5.X support

- Support for

Junos Pulse
- Multiple sessions per user
- Ability to present legal disclaimer pages before and after user authentication
- Support for Microsoft AJAX through the Rewriter (Core Access)
- Support for Outlook Web Access 2010 through the Rewriter (Core Access)
- RDP 7 support
- Embedded Java RDP Applet
- Ability to display banner messages to remote users

-VDI Support Secure Access (SA) version 6.5 interoperates with VDI products, including VMWare's View Manager and Citrix's XenDesktop, enabling administrators to deploy virtual desktops alongside the SA series of SSL VPN devices.
- Antispyware Support with Enhanced Endpoint Security (EES) Functionality
- Integrated WAN Acceleration (WX) Client Delivery
- ActiveSync Expansion
- Network Connect Client FIPS Certification
- User Record Synchronization
- RDP Launcher
- 2048-bit CSRs
- 64-bit platform support for Windows Secure Application Manager (WSAM)

- UAC-SA Federation
- Authentication and Access Control
- Client Access Mode enhancements
- Enhanced Manageability and Deployment Flexibility
- Endpoint Security
- SA4500FIPS and SA6500FIPS hardware platforms

- Central Management of Policies and Secure Access SSL VPN appliances via Juniper's Network and Security Manager (NSM)
- Enhanced User Experience for Windows File Access Single Sign-On

- Endpoint Security: Automatic Remediation, Pre-Defined Patch Management Checks, Pre-Defined Host Checker Policy Enhancements
- Endpoint Security/Enterprise Mobility – Windows Mobile Host Checker
- Enterprise Mobility - Clientless ActiveSync on Windows Mobile, JSAM and Core Access Support for Solaris 10
- Network Connect – Windows Vista Credential Provider, Bandwidth Management, Windows Client Reconnect Behavior, 256-bit AES Support
- Terminal Services - Citrix Published Application Support, Windows Server 2008 Support
- Streamlined Management – RADIUS Accounting NC Assigned IP Address

- Endpoint Security
- In order to keep pace with newer operating systems, this release includes support for Secure Virtual Workspace (SVW) on Windows Vista

- Support Trusted Network Connect (TNC) Standards on Host Checker
- Host Checker Support for Machine Certificate Authorization Juniper has extended Host Checker to now include support for X.509
- Extended custom endpoint assessment capabilities to include checks for Mac address and NETBIOS
- Support for OWA, Sharepoint, and Office 2007 through the Core Access Method
- MySecureMeeting adds support for reservationless, fixed-URL Secure Meeting deployments
- Citrix Terminal Services (CTS) – Intelligent Client Delivery and SSO
- CTS Proxy Auto-Client Reconnect and Session Reliability
- ICA Client Policy-Based Access Control
- Terminal Services RDP/JICA Fallback
- Windows Terminal Services Session Directory Support (session persistence)
- Standalone WSAM Launcher for Windows Mobile Devices
- Clientless File Browsing on Windows Mobile
- Seamless Roaming Support for WSAM on Windows Mobile
- MSI Packaging for Installer Service

- All Secure Access features are supported on Microsoft Vista IVE 5.5 with some minor exceptions

- Resource Profile Templates for Outlook Web Access, iNotes & Sharepoint
- Anti-Virus Signature File Version Monitoring
- Endpoint Security Assessment Plug-in Updates
- Win Mobile 5.0 Pocket PC PDAs and Phones Support
- Intel based Macintosh Support
- Extended Platform Support: Firefox, SUSE Linux, Fedora & Windows 2003
- Network Connect (NC) Command Line Launcher
- NC GINA Chaining
- Support Meeting (new type of Secure Meeting)
- Single Simultaneous Secure Meeting in Advanced License
- In Case of Emergency (ICE) License for Enabling Business Continuity with SSL VPN

- Resource Profile Templates
- Basic Configuration and Endpoint Security Task Guides
- Client Log Upload
- Enhanced Sharepoint Support
- Coordinated Threat Control with Juniper's Secure Access SSL VPN and Intrusion Detection and Prevention Products
Complimentary solutions and products


- Cluster unit (add availability and redundancy with a second SSL VPN appliance)
- Centralized management
- Enhanced reporting (great for more compliance needs)
-
IPSec VPN client
Got a question? Click anywhere on this line to send a message to us at Altaware, Inc.
Juniper SSL VPN | SA (IVE) / MAG Release History